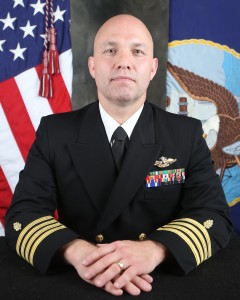 CAPT Todd May-US Navy: CAPT Todd May graduated from Southern Utah University with a Bachelor of Science degree in Zoology in 1990 and accepted an Armed Forces Scholarship with the Navy in 1990. He matriculated into medical training in, what is now, Western University of the Health Sciences in Pomona CA.  Following medical school he completed Family Medicine Residency at the University of Nevada School Of Medicine, Las Vegas program. While a resident, he served as an assistant team physician for the University of Nevada, Las Vegas athletic program. CAPT May is board certified by the American Board of Family Medicine with a Certificate of Added Qualification in Sports Medicine.
In 1997, LT May was stationed at Naval Hospital Okinawa Japan providing full scope family medical care for Marines, Sailors and their families.  In 2000, he was  selected to start the Navy's primary care sports medicine fellowship through the San Diego Sports and Family Medicine Health Center in San Diego, CA. In 2001 LCDR May reported to the Navy's branch medical clinic at MCRD Parris Island, SC and served as the medical director for the Sports Medicine and Reconditioning Team.
From 2005-2009 he was stationed at the Naval Hospital Bremerton as a faculty member for the Puget Sound Family Medicine Residency and was promoted to CDR. Along with practicing full scope family medicine; he developed a new musculoskeletal curricula for the residency program, completed a faculty development fellowship through the University of Washington, and volunteered to serve on a civilian county wide sports
From 2009-2011 CDR May reported to the Naval Hospital Camp Pendleton as the associate program director for the Navy's primary care sports medicine fellowship.  In 2012 he deployed to Afghanistan to serve as the OIC for all medical services aboard Camp Leatherneck, Helmand Province, Afghanistan including the Concussion Care Restoration Center. While there he led the team caring for concussion related injuries for RC Southwest and served as the region's SME for concussion treatment.
In November 2012, after returning from this deployment he assumed the duties of the program director for the primary care sports medicine fellowship at Camp Pendleton Naval Hospital.