There is no Finish Line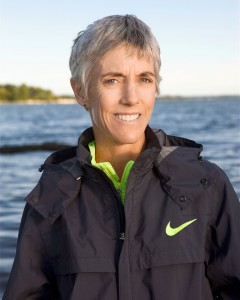 Keynote Address by Joan Benoit Samuelson
1st Female Olympic Marathon Gold Medalist
Date: September 12, 2015 – during the Moving Through Life Community Event
Time: 9:15 – 10:30 a.m.
Location: UC Irvine Student Center (directions).
Joan Benoit Samuelson will forever be remembered for her dominating performance in the inaugural Olympic women's marathon in 1984 when she beat a field that included other marathon legends such as Grete Waitz, Rosa Mota, Ingrid Kristiansen and Lisa Martin. Remarkably, Samuelson had qualified at the US Olympic Marathon Trials just two and a half weeks after arthroscopic knee surgery, winning the race where she had to place in the top three to earn an Olympic berth.
Since winning the 1979 Boston Marathon with an American Record while still a student at Bowdoin College, Joan has continued to run in World Marathon Majors. At the 2010 Chicago Marathon, the 25th Anniversary of her 1985 American Record and personal best of 2:21:21, she became the first woman to run a sub-three-hour marathon in five different decades! In April 2015, Joanie won her age group in the Boston Marathon by 10 minutes, and in October, she has plans to run the Chicago Marathon.
Currently, she is a consultant to Nike, Inc. and a clinician, conducting numerous running, health, and fitness clinics throughout the United States and the world. Samuelson is also an experienced motivational speaker, giving regular addresses to corporations, civic groups, schools, and athletes. She has authored two books, her autobiography Running Tide (Knopf, 1987), and Joan Samuelson's Running for Women (Rodale Press, 1995).

  View Joan Benoit Samuelson's website

  Watch video clips